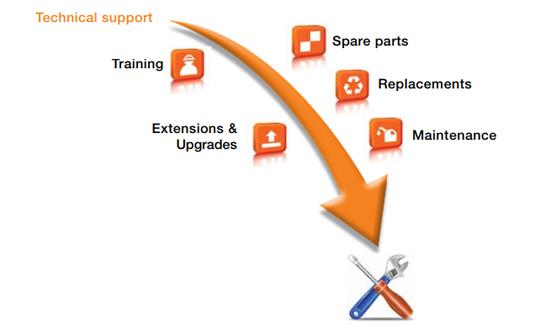 SES has customer satisfaction as the center point of its strategy. We believe in serving the customer during the life cycle of the product. So even after the end of the warranty we offer many unique solutions with the support of ABB and our sister concern, Switchgear Electromechanical. We can not only work on the LV product requirements of yours but offer services like co ordination with the utility for shutdowns, Annual preventive maintenance, Annual Maintenance Contracts etc.
Extension, Upgrades and Retrofits
We enhance your apparatus with the latest technologies to increase performance and productivity: Retrofit, Upgrade
New generation components increase the operating efficiency and extend the equipments' life. We offer low-risk migration strategies for its range of products to ensure maximum return on investments.
Our service ensures the complete success of the upgrade, retrofit or migration in close cooperation with the customer.
OTHER SERVICES
Further, SES aims to be one-point solution provider for all Electrical needs of the industry. Apart from the supply of LV, we can undertake complete Electrical packages which includes supply, Install, testing commissioning of MV Panels, DC Systems, UPS, RTU, Cables, Cable terminations, etc
We believe in supporting our customers during the life cycle of a product, right from Installation to decommissioning of the equipment after its useful life.
Following are the services provided by us:
Installation : We believe in the philosophy of getting the installation done by manufacturer trained personnel.
Testing and commissioning : We have a team of personnel certified by the utility/ client to do the necessary testing and commissioning to ensure that the testing is done as per local rules and regulations.
Engineering Studies : Studies like short circuit analysis, System stability, Harmonic Analysis, Earth fault, Load flow, Motor Starting etc., are done with state of the art software's like ETAP. We also serve to get approvals from utilities/authorities.