Synchronization panel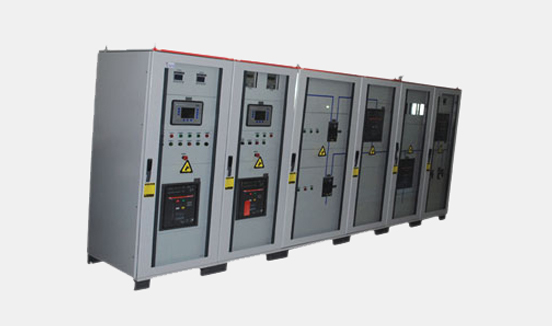 The Synchronizing panels are mainly designed and used to meet power system requirement. DG sync panel controls the functionality of a number of diesel generator sets. To synchronize two or more diesel generator sets, it is required to match all the parameters viz. voltage, frequency, speed, phase sequence and phase angle These panels function both manually and with an automatic synchronizing function for one or more generators or breakers. After an initial warm-up period (adjustable) the generators will synchronize with each other by means of motorized circuit breakers or contactors onto a common busbar.
Synchronization Panel Key Features:

As per IEC 61439-1 Fully Type Test Assemblies.
Type Tested upto 6000A.
The Construction of panel: Form-2, Form-3 or Form-4
The Enclosure Design: Fixed type or Drawout type.
Load Shedding / load sharing.
Control functions available for engine monitoring, warm-up and cool down periods, emergency shutdown, multi attempt engine start control, engine test runs.
Synchronization method: Manual or Automatic.
Cable Entry: Top or bottom (as per the site condition).
International Protection Marking: IP 43
Mounting: Floor mounting.