MOTOR CONTROL CENTER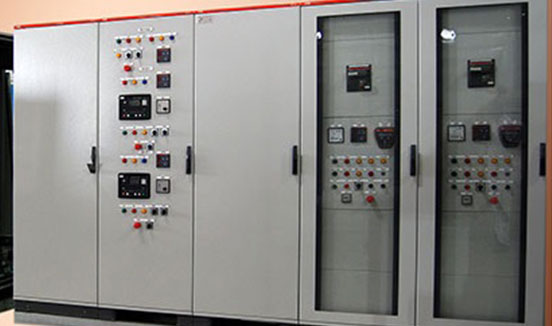 The Motor Control Center (MCC) means that the combination of starter in a single enclosure containing the Motor starter, Moulded Circuit Breaker, Earth leakage Devices, Fuses and a device for disconnecting power. And other devices are accompanied with the motor, such as Indication lamp, Selector switch, HMI, Pushbuttons may also be included.
A motor control center can include variable frequency drives, programmable controllers, and metering and may also be the electrical service entrance for the building. The motor control center may be installed in a separate air-conditioned room, but often an MCC will be on the factory floor adjacent to the machinery controlled.
Motor Control Center Key Features:

European design and quality.
As per IEC 61439-1 Fully Type Test Assemblies.
Type Tested upto 6000A.
Type tested for global and local standards by LOVAG and DEKRA.
Seismic and arc fault certifications.
The Construction of panel: Form-2 & Form -4.
Short circuit Breaking Capacity of the Panel: 85kA/1 sec, 50kA/3 sec.
The Enclosure Design: Fixed type & Withdrawable type.
The Panel Access: Front or Rear to suit the application.
Cable Entry: Top and bottom (as per the site condition).
International Protection Marking: IP 43
Mounting: Floor mounting.
Fully compatible with ABB most advanced devices and communication solutions.
Additional guarantee of Robustness and safety.
Download Catalogue

Variable Frequency Drive (VFD)
Softstarter
Motor Protection and control